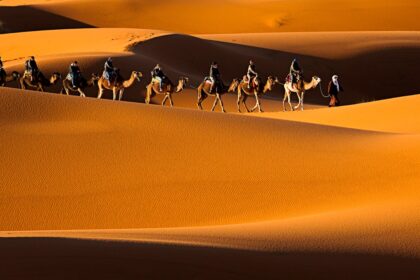 Morocco Tours and Travels – full destinations tours operating company around Morocco
IMLIL-TREKKING – based local tour operating business which is managed by Moha Ouhaga, a young Berber originally from the historical town of Imlil in the south east of Morocco and a University graduated in "English Literature" student. Hamid speaks 3 languages, Berber, Arabic, French, English, Spanish and German. For more than 9 years Hamid has worked as a travel guide with a number of travel agencies in Morocco and created an excellent reputation in the travel business for himself and proud that you can find excellent TripAdvisor reviews for other agencies describing the way he deals with the travelers and the excellent job he delivers.
 Please review the offerings on our tours page and, if you see a tour that interests you, complete an online Inquiry Form. We are also happy to alter any of our programs to meet your exact requirements. Our philosophy is to guarantee complete customer satisfaction with quality and excellence for every Morocco trip we plan. We will take great pleasure in helping you with the necessary arrangements for your exciting Morocco holiday packages programs and to make sure that your Morocco Vacation is an exceptional one. We can help you put together the perfect private tour. Explore the magic of the Imperial Cities, the rolling dunes of the Sahara Desert, or the peaks of High Atlas Mountains; enjoy the beauty of the Mediterranean and the Atlantic coasts. We'll help you put together the cultural tour of a lifetime!
 Our company is your perfect way to your wonderful morocco travel, the land of all flavors, a daily invitation to dream, Different colors, desert tan, the snowy peaks of the High Atlas, the palm groves, fruit trees, the contrast of blue sky and sea. The traveler will find an answer to all his dreams. Morocco has uniquely combined the richness of its history, its beautiful natural sites and the great hospitality of its people.
 We devote our time for your satisfaction and relaxation during your visit to Morocco. Our drivers are very professional and your safety is our duty. We are proud to offer a selection of tours and programs that allow the discriminating traveler to truly experience all of the best that Morocco has to offer.
Please Contact Us To Book A Tour Or An Excursion Of Your Choice Or To Just Talk About Your Travel Desire And Experience, Also You Can Ask About Information About Morocco In General, This Service Is Totally Free And We Can Provide You With Information Even If You Are Not Engaged In A Tour With Us. We Are Committed Of Providing 100% Satisfaction For Our Travelers.
GET IN TOUCH :