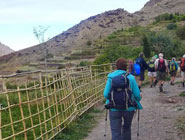 The High Atlas walk
include accommodation, route notes/maps, & luggage movement.
We offer a range of self-guided trekking and walking holidays to costume the duration of your trip:
A week's walking in one of the most scenic areas of Morocco. The tour follows a circular route of just over 55 miles, taking you into the heart of the simple life of the Berber people.