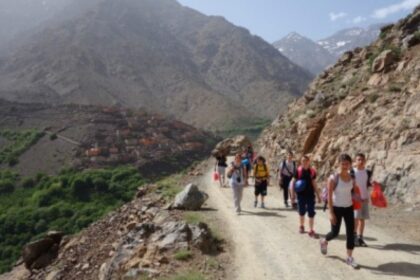 Atas Valleys Trek : 2Days1Night Imlil and Azzaden Valleys Trek
| | |
| --- | --- |
| Trekking through Berber villages is a great way to experience the local culture and way of life. Visitors can explore the traditional architecture, meet the friendly locals, and learn about Berber traditions and customs. | |
| | |
| --- | --- |
| Travel from Marrakech through many little hamlets and Berber villages to the magnificent Western High Atlas Mountains. Trek past the villages of Imlil, Arghen and M'zzik. Visit; a village in the Assif Aït Mizane Valley, overlooking ancient irrigated terraced fields of fruit trees and vegetables. Get over Tiz M'zzik Mountain pass (2450m) and descent through junipper trees down to Tizi Oussem villagea for the night . | |
On day2, you Travel down to the Assif Azzaden Valley ( Assif Azzaden ), passing through several Berber hamlets and up to the Tizi Oudite pass and down to the village of Aguersiouâl.
Enjoy your lunch by the river before you set for another hour up the Imlil valley prior to get back to the village of imlil and transfer back to Marrakech 
ITINERARY & TREK DETAILS:
Day 1: Marrakech – Tizi M,zik – azib Tamsoult – Tizi oussem
Transfer from Marrakech to Imlil 1740 m, then Trek up to the top of Tizi Mzik (2489m). Descend to azib Tamsoulte summer houses via the Ighouliden waterfalls then go down to Azzaden valley, Tizi oussem village overnight at Berber guest house. 6h30 walking
Day 2: Tizi oussem – Azzaden valley – Tizi Oudid – Agrsiwal – Marrakech
After Breakfast descend to a Berber village of Ait Aissa and return via Tizi Oudite 2200m mountain pass then down to the village of Malat and Agersioual 1600m for lunch, then transfer back to Marrakech. 5h walking.
TRIP FACTS
Trek grade: medium
Group size: Min 2 and Max 15
Starts/Finish: Marrakech city
Availability : all year round
PRICES
◉Group 2-7: 130 € Per person
◉Group 8-10: 120 € Per person
◉Group 11-15: 110 € Per person
◉One person: On request
what's included
◉Private transport to and from marrakech
◉Hotel pick up and drop off
◉All meals during your 2 days trek + coffee and tea
◉Accomodation in the guest house
◉Mules to carry your bags
◉Mountain guide
what's not included
◉Travel insurance
◉Drinks
◉Tip
about the Price/Payment
The price quoted is per person and we quote in Euros (€), but you can pay in Sterling (£)/ US Dollars ($)/ Moroccan Dirham.